Spinal Decompression in Walnut Creek
Providing Award-Winning Care For The Whole Family
Spinal decompression therapy is a non-surgical approach to address disc problems, such as herniated or bulging discs, stenosis or chronic lower back pain. It can be highly effective, even for patients who have had no success with other traditional or alternative options.
At Holmes Chiropractic, we recommend spinal decompression for patients with radiating pain, MRI confirmation of disc issues, or who want to avoid injections or surgery.
Get started with our $49 New Patient Special – Call (925) 938-1122 or request an appointment online now!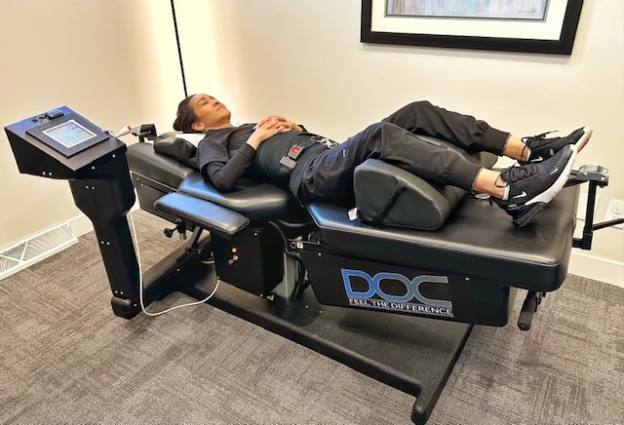 How Does It Work?
Spinal decompression is a traction-based therapy. After an in-depth assessment by your chiropractor, a specialized table will be programmed to your exact needs. The computerized table will gently stretch your spine and then relax it repeatedly throughout your session.
When your spine is stretched in this way, it may help reduce pressure in the spinal joints and increase the flow of blood and nutrients to the disc and joints. Creating space helps alleviate pain, and increased circulation helps speed healing.
Decompression therapy is generally painless, and most people find it relaxing and often fall asleep. As with all our care, your decompression care plan will be customized to your specific needs and goals.
Spinal Decompression and Chiropractic Care
Spinal decompression therapy can be done in conjunction with chiropractic care or as a stand-alone therapy. In some cases, the supporting structures are inflamed and can benefit from other therapies, such as chiropractic adjustments, laser therapy or massage.
How Many Sessions Will I Need?
Typically, we recommend a series of sessions over several weeks, but every patient is different. You will be given specific recommendations for your unique case. Once correction has been made, we encourage patients to maintain an active lifestyle. Many patients choose to come in for regular maintenance decompression.
Take the First Step Toward Better Health – Call (925) 938-1122 or request an appointment online now!