We love to see patients who have never been to a chiropractor before or have a lot of doubts as to the healing power of chiropractic. We find that many of our patients who were skeptical when they first came in make great chiropractic ambassadors, recommending care to others and helping us spread the word about our natural, effective healing alternative.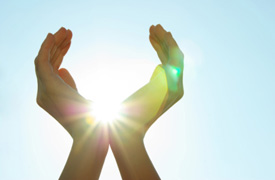 Healing Without Drugs
Once you experience an alternative to the traditional means of treating your ailments or pains, whether it's with medications, surgery, or injections, it helps you realize that your body is actually in charge of a lot of healing all by itself. As a chiropractor, I help your body and coach it along the way to initiate the healing process, and your body will pick it up and know what to do from there.
Chiropractic Newbies
Our patients who have never before seen a chiropractor are often surprised at the variety and extensiveness of the therapies and rehabilitation we use as a complement to chiropractic care. They're always surprised at how quickly they respond to care and get better. By getting some of that balance back in your nervous system and restoring the body's structural position, your healing process is started, taking you to optimal health.
If you've never seen a chiropractor and aren't familiar with the philosophy of chiropractic or the techniques we use, our patient education resources will leave you feeling confident and ready to help your body heal itself! Give us a call today!