I was thinking about the upcoming holidays, and realized that thankfulness is the theme that's on the top of everyone's list. It's at the top of my list too, and I'd like to share with you the three things that I'm most deeply grateful for:
Good Health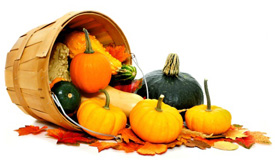 Because I spend so much time around people who've LOST their health, sometimes it's very easy to take my own good health for granted.
It's easy to forget that it's a blessing every day to get up with an abundance of energy to get through a busy day of treating patients and then spend time with family and friends pursuing all of my goals and interests.
It's easy to forget that it's a blessing to not be "sick" and to not be riddled with pain or disabled by physical limitation.
I'm thankful that I'm a chiropractic patient myself and thankful for the good health that it's provided me.
My Family
When I was in practice ten years ago, I was a single guy without a family of my own.
Many of my patients have been with me throughout this last decade and have seen me mature into a husband, father and family man. It's been a rewarding evolution!
I'm thankful for the gift of my family.
My Loyal Patients
I'm a very lucky man.
Every day, I get to spend time in an environment that nourishes my soul and gladdens my heart. I get to spend time with people that are happy and laughing…that are grateful for improvements in their health…that are a part of my community of friends.
I'm thankful to you, my loyal patients, who make my work never feel like a "job."
During this season of Thanksgiving and all year long, I'm grateful for all the many blessings in my life.
Happy Thanksgiving everyone!