Meet Dr. Brandon Holmes
Restoring Health to Our Community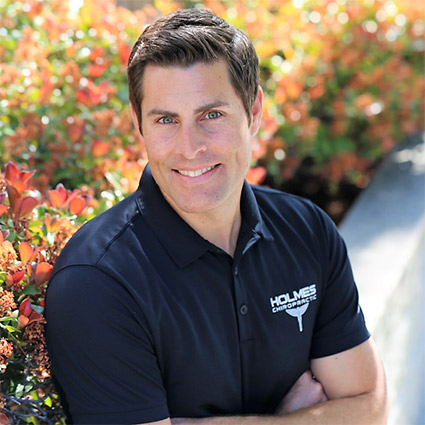 Learning and applying a natural yet simple approach toward health proved both highly-effective and safe, which is exactly what Dr. Brandon Holmes brings to his Walnut Creek practice. "I have always had the desire to help others within the Walnut Creek community," says Dr. Holmes. "When I discovered chiropractic care and experienced the benefits, it all made sense to me. Not only did it help with the pain I had suffered, but I just felt more alive! That's when I decided I wanted to be a chiropractor, and serve the Walnut Creek community, where I was born and raised." There is nothing more gratifying than to see a patient return to our office with better function, better health, and a smile!
An Education in Chiropractic
Dr. Holmes was so inspired by the results achieved through chiropractic care that he decided to dedicate his life toward this passion for chiropractic. After receiving a Bachelor of Science degree in Kinesiology from Cal Poly, San Luis Obispo, he furthered his studies at one of the country's premier chiropractic institutions, Life Chiropractic College West. He graduated Magna Cum Laude and served as student body Vice-President, Parliamentarian and class representative.
Read More of Dr. Holmes Accomplishments
Dr. Holmes is a Board Certified and licensed chiropractor, a past Executive Board member of the
California Chiropractic Association
, as well as a certified first aid and CPR instructor and volunteer for the American Red Cross. Dr. Holmes is also a certified X-ray Supervisor and Operator. In addition, Dr. Holmes continues to be recognized as an expert in the chiropractic field by the California State Board of Chiropractic Examiners. He is also a member of the National Chiropractic Council and member of the World Chiropractic Alliance.
Dr. Holmes had the honor of serving as a representative chiropractor at the Sacramento State Capitol Legislative Conference, and has served as a keynote speaker to many Walnut Creek community organizations and schools. As the past President of the Business Networking International group in Walnut Creek, he was able to further reach out to the community to help others. His passion for sports has enabled the opportunity to serve as team doctor to Walnut Creek and Pleasanton Youth Football, as well as perform sports physicals for many local high school and youth sport programs.
Outside of the Practice
Dr. Holmes is happily married to his wife, a first-grade teacher in the community. They feel blessed to have three happy and healthy children. "We just love to spend time in Walnut Creek, and truly enjoy the people within the community. We feel fortunate to live, work, and play in such a wonderful area!" Dr. Holmes also enjoys golf, tennis and traveling. "I still remember the concerns and apprehension I had when I went to the chiropractor for the first time. So we make it a point to explain everything in advance, answer questions, and attempt to over communicate," explains Dr. Holmes. "Patients appreciate that."
Schedule Your Visit Today
We look forward to welcoming you to our practice! Contact us today if you'd like to book a visit or have questions for us—we're happy to help in any way that we can.

Dr. Brandon Holmes | (925) 938-1122